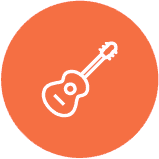 Guitar Lessons
We offer a wide range of guitar courses. From informal to comprehensive. For children or adults.
Get in touch today to find out how you can improve your guitar finesse in as short a time as possible.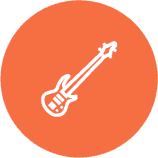 Bass Lessons
We offer bass lessons in Blackburn for all levels from absolute beginners (with no musical background) to advanced bass players.
Study the bass guitar with us and learn how to play jazz, funk, pop, rock or classical bass guitar.
Banjo/Mandolin/Ukulele
Want to play Bluegrass or Clawhammer style banjo but don't know where to start? Interested in another instrument such as mandolin & ukulele?
We teach them all. Send a message today to see how we can help.